&nbsp
25 January 2008
Baltimore
If these walls could talk...
Charlotte Perkins Gilman (1860-1935) published her short-story The Yellow Wallpaper in 1892. Gilman was responding to (and protesting) the "rest cure", realizing her own near-descent into madness while undergoing it. The primary advocate for this "cure" - a recommended prescription for perceived "neurasthenia" (a vague term for "nervous distress") - was Dr. S. Weir Mitchell. Upon receiving Gilman's story, he apparently changed his thinking. Virginia Woolf's own struggle with the "rest cure" was recently retold in the novel and subsequent film The Hours. Gilman, Woolf, along with Kate Chopin, Sylvia Plath, and Edith Wharton, now stand at the forefront of the awareness of the rights of women within the English-speaking world.
Our creators, Catherine Reid and Judith Lane, come to this story with 100 years of perspective. In giving voice to the spirits within the "horrid yellow wallpaper" of our protagonist's nursery/fortress/prison, they reflect our own fractured time as well. Gilman demands to be seen and acknowledged as a person, not a statue, not a goddess, not a possession. She has recognized the dangers of ignorance or arrogance within our history, our national wallpaper. In the opera, the women within the wallpaper create a metaphor to frame our story embracing a history of women past, present and future.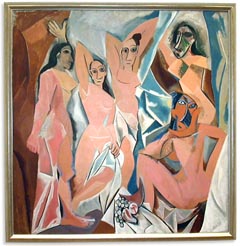 As our protagonist withdraws deeper and deeper into her own mind repeating "I am alone", she begins to search beneath the paper for something tangible, identifiable, perhaps instructive. On a more universal level, examining closely behind the surface could be a metaphor for any of us faced with an insurmountable challenge. No doubt someone has faced our challenges before. When we can give history a voice, we are actually never alone. By standing up and pointing to the injustice of the "rest cure", Gilman started a movement towards recognition and equality which continues to thrive.
GARNETT