&nbsp
4 April 2008
San Diego
Breakfast!
One of the great delights of travel is to find good, local dining spots - not necessarily the fanciest - but one where you feel rewarded and renewed. I've long planned my arrivals in Houston so I can catch lunch at the lunch-only Treebeards, or delayed a departure from Chicago to grab breakfast at Orange, but this week, I found a slice of Heaven in Mission Beach, between San Diego and LaJolla. It's The Mission!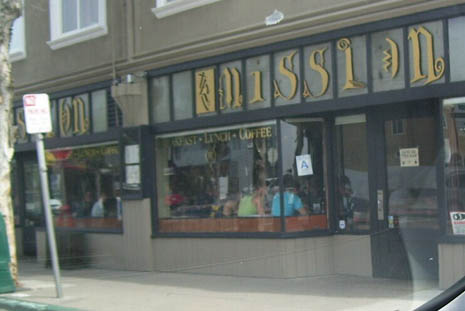 I was driving along looking for a local coffee house, and here's a bustling place, large windows displaying a lively crowd - including many families, even on a weekday morning. You walk into a space so intelligently designed - with sconces of fresh flowers, a Kitchen that looks towards the windows, too (perhaps accounting for the staff's energy and good humor?) and table that can easily merge from a 2-top to a row for 12, perhaps more! There's even a magazine rack when (if) it's a slow morning.
The coffee dept (the other half of the kitchen) proudly displays the sign: Last Legal Vice, and along with your recycled paper napkin, you get a stir-stick with a very fresh cup of recently roasted/ground coffee. I'd almost forgotten the taste! No need for a spoon - but fresh milk arrives, not silly containers you have to peel, or worse, powder. The staff has the great responsiveness to get your order calmly, and then engage you in conversation later if you seem interested.
And then the menu (which has a subtitle: conscientious cuisine): Seems to be an abundance of cinnamon, which is fine with me, the cinnamon toast was the perfect blend of crunchy and chewy, enough butter to be tasty, but not greasy - eggs, pancakes with any number of add-ins, some tex-mex favorites. And the finest granola and fruit package I have ever encountered. I'm not usually an oats or granola type, but here was lightly toasted grains and almonds, with chardonnay raisins, petite blueberries, crisp apple and pear chunks, banana, fresh orange slice, strawberry - with a bit of nutmeg in the bottom of the bowl. Add your milk and go to town!
The lattes are served in a pint glass, with a gently wrapped napkin to save your poor fingertips, but more important, it's a stimulating environment, full of refracted sunlight bouncing off the building across the street, that makes you glad you came in, and invigorated when you leave. I can only imagine the crowds on the weekends! I didn't go for the Bloody Mary, but I bet it would be great, too, and, no doubt, clever!
Apparently, they have two other San Diego restaurants - in North Park and near the Padres' Stadium. I'll be back time and again, because in our business, sometimes breakfast is the only thing that you can count on to go right in your day. After that, the slings and arrows will besiege you! It's worth getting up for!
The Mission, 3700 Block of Mission Blvd., Mission Beach, California. Enjoy!
GARNETT